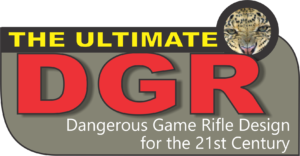 In part one of this article, several issues associated with barrels and iron front sights were discussed at length.  Now let's look at one of the other two traditional parts of a firearm; the lock or, in modern terms, the receiver.  I will talk about some ideas for their possible refinement, and try to examine every feature in detail.  If there is anything I have overlooked or if you know of any new products or ideas we should know about I would love to hear additional thoughts from our readers
After years of research and worldwide combat experience, Paul Mauser standardized his bolt action rifle design in 1898 with his famous Mauser Model 98 action which featured cock on opening, control round feed and positive claw extraction.  Although there have been several notable designs in the ensuing century the main innovative thrusts in receiver designs have focused on cutting manufacturing costs.  No one has substantially improved on Mauser's original criteria of total reliability in combat under extreme conditions of weather.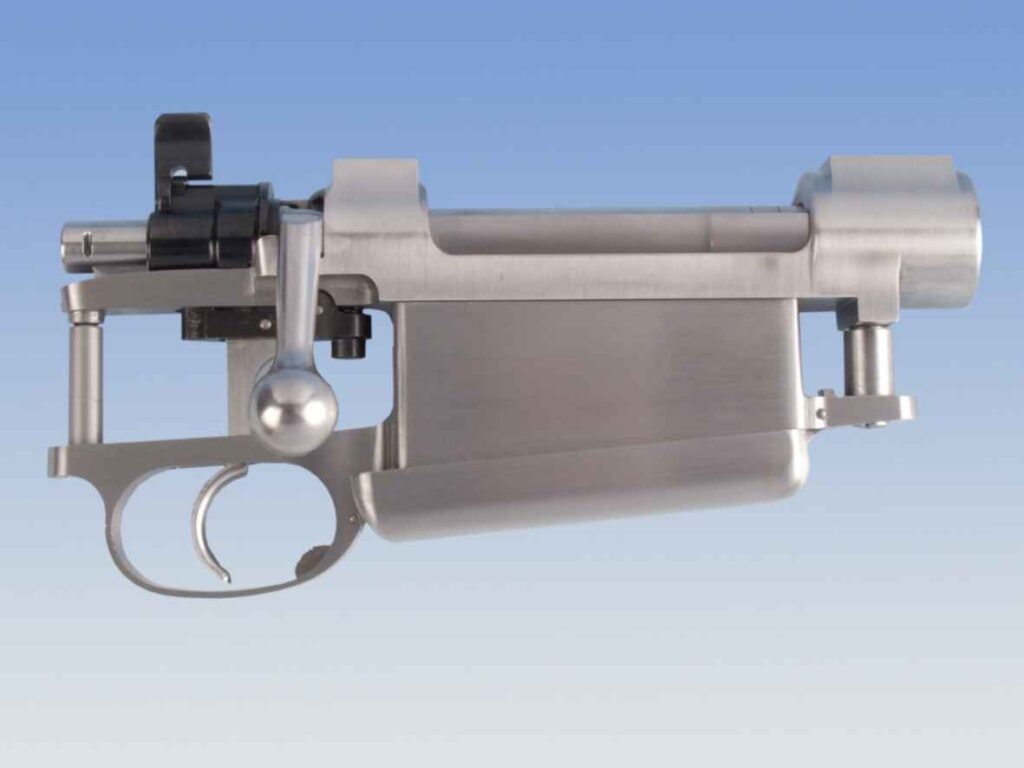 Currently Gottfried Prechtl Firearms in Germany and Granite Mountain Arms in the U.S. are both manufacturing new Model 98 magnum receivers using the early 1930's drawings of Paul Mauser and adhering closely to his original specifications.  Gottfried Prechtl, on his website, goes into detail to explain where he has diverged from Mauser's original dimensions, but these are minor changes and only serve to enhance gas pressure handling capabilities and facilitate modern cartridge sizes.
To me, besides the stock, the biggest design flaws in factory DGR's and the biggest potential hazard to your health is the lack of an extra-capacity drop box magazine.  I do not understand the big rifle companies, such as Winchester and Remington with their three round magazines . . . . and some of the factory issued big caliber Weatherby rifles hold only two rounds!  There has been so much complaining from the rifle hunting community that Weatherby now sells a floor plate that will let you put three rounds in rifles like my .30-378 Mark V.  In fact, the main reason I recommend CZ rifles to safari bound newcomers is for their enhanced magazine capacity.  The older model Brno ZKK 602 is a favorite among African PHs because they hold five .375 H&H cartridges in the magazine and one in the chamber.  CZ's new model safari rifles, the CZ 550 Safari will do the same "one up, five down" stack. 
To their credit, Ruger does put four shots down in the magazine of their .375 H&H caliber M77 RSM Safari rifles, but no one can beat CZ in terms of total firepower.  This feature can only be appreciated by someone who has emptied their rifle into a dangerous animal that is still on its feet.  I highly recommend practicing rapid reloads at the rifle range before you go off on safari.  This is something I had to learn the hard way.
After my personal close call in Australia with a banteng, I am almost overcome with gratitude just thinking about an extra round in the big Weatherby calibers, if I had my choice, I would prefer to have a rotary magazine, like the old 1903 Mannlicher-Schoenauer with one cartridge up and five down capabilities.  Too expensive to build or not practical size-wise, I suppose; although Ruger has managed to field both .44 Mag. and .22 caliber rifles that use a rotary design magazine.  I see no reason why a good modern designer couldn't come up with something similar for large caliber DGRs.  A rotary design magazine would have the advantage of holding more rounds than a conventional straight or staggered cartridge design, but would not extend as far below the stock, which would facilitate the rifle's handling and carrying characteristics.  However, like I said, the downside to this idea is the size of the magnum cartridges could make it too fat in profile to fit elegantly into the stock.

I think that another good rifle design that incorporates a great idea is the two "onboard" detachable magazines used by the Steyr-Mannlicher L series DGR rifles of a few years ago.  Conventional wisdom warns against using detachable magazines in a DGR for a couple of reasons.  First, it is feared that recoil will blow the magazine out of the rifle with hot hand loads, or even with some factory ammo.  However, I personally know an experienced hand loader who has taken his .458 Win. Mannlicher L on safari.  He told me that the locking mechanism is so robust that blowing out a mag has never been a problem for him, even with brisk reloads.  The other nice thing about the Mannlicher L design was the extra magazine that was built into the stock.  This is so much better for quick reloads than the pricey trap-door cartridge holders found inletted into many custom rifle stocks or behind their recoil pads, not to mention the inexpensive elastic slip-on designs.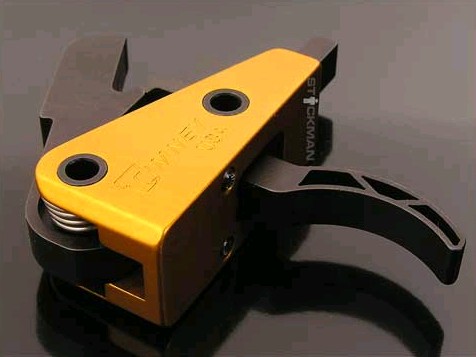 The second thing with detachable mags that conventional wisdom warns you about is that if you lose them you are left with only a single shot rifle at best or a club—at worst.  This is true but that is why the Steyr-Mannlicher stock-mounted extra magazine is so clever.  Besides, if it was me, I would have 3-4 extra magazines at a minimum.  No big deal with a deer rifle, but in a DGR it would be better to reload military style if the need arose.  Eject the empty magazine onto the ground, and slap a fully loaded new magazine in as fast as possible.  Even a missing $50-100 magazine would not be a crippling financial loss, and the fact is they can be usually recovered after the action in most hunting situations.
Well known writer and Zimbabwean PH, Don Heath, has a detachable mag equipped Dumoulin in 9.3×62 which he loves, and tells me that he has never had any problems with its magazine.  He carries several spare magazines, which are not only good for rapid reloads but also enable quick changes from soft points to solids as the need arises.
It is too bad Steyr made the Model L's magazines out of a plastic polymer which became brittle and unreliable with age.  Plastic and other synthetic materials have many places where they are practical on a serious weapon, for instance as a coating to protect the metal or to provide a buffer for some reason, but I am dubious about using them for magazines.  So for me, I say yes to detachable magazines for a DGR, if they are properly designed and manufactured.  An enterprising rifle company needs to find an extremely talented metal smith to copy the Steyr-Mannlicher magazine design and their stock mount system.  Make it out of steel, make it as robust as possible. . . . and make an extra half dozen spare magazines for me!
Another seemingly minor, but actually very important, point is that the bolt handle knob on a DGR should be larger than the one used on standard big game rifles to facilitate acquiring the bolt quickly and automatically when the hunter is under stress.  Also, I personally don't want any checkering in the metal on the bottom side of the knob.  I once had a Remington 700 bolt knob "sandpaper" a nice scar into my right index finger when I didn't have a perfect grip on a heavy recoiling .416 Rem. Mag. KS Custom.
The large teardrop shaped bolt handles found on some traditional Mauser DGRs are a perfect design that I see no reason to change.  Many bolt action military sniper rifles also sport extra large bolt knobs for the same reasons that a proper DGR should have one.  They are easy to find and manipulate during very stressful situations, where a small mistake can have dire consequences on your longevity.
Another high tech solution that is often overlooked is an all-weather lubricant, whether grease, powder, or oil, that will retain its qualities in extreme temperatures.  An arctic to tropic weapon needs lubrication that will enable it to function in the harshest climates on Earth.  The only choices I currently know of are Shooter's Choice gun grease which will function in temperatures from -60 to +360F degrees and Shooter's Choice FP-10 Lubricant Elite which has a range of -76 to +500F degrees.  There maybe are some others available now, but these were the first that I know of to tackle this problem.  Polar bear hunters have found out the hard way what a big problem lubrication can be in a very cold climate.  A DGR must be 100% reliable, so when the moment comes, you can take whatever shot is offered without worrying about a frozen receiver. 
Traditionalists weep at the thought of the demise of rust bluing, but there are now better solutions for metal protection.  I had a Teflon coated, synthetic-stocked rifle back when you could not give the things away and no one else in the world wanted them.  This was in the 1970's, and I also wanted quick-detach scope rings, but was shouted down by all the local rifle "gurus."  Being a contrarian by nature, I would have bought them anyway, but the only sources at the time that I knew of for quick-detach scope rings were in Germany, and I didn't know any practical way to order them.
The same local experts who thought my rifle was a horrible abortion happily took my money since they figured I would soon be committed to an insane asylum and have no further need of money.  A pioneering assistant gunsmith hand made my prototype synthetic stock from a fiberglass mold, and then found one of the few gunsmiths in the country who did Teflon coatings.  40 years later, the stores are full of similar guns and today no one even looks sideways at mine.
Today we have even more advanced finishes, one finish option I would consider for coating an arctic to equator rifle is to send it to Robar and have them put on their NP3 and Roguard finishes.  There are other US companies offering all sorts of different finishes, but the Robar Company has one of the best reputations in the business.  They have been around for a long time and their rugged products are well known among shooters. 
Their first product, Roguard, meets the U.S. Military Machine Gun Dry Firing Requirements of 60 days of sea water immersion or 1000 hours salt spray, and the other finish, NP3, exceeds a 240 hour salt spray test, so it should be capable of handling any demands most people might make on it.  Robar recommends having the outside surfaces done in Roguard which looks similar to regular bluing, but is actually black in color, then have the internal parts coated with NP3, which is a medium gray color, and also has the advantage of being self-lubricating. 
Receiver mounted sights are another interesting idea.  A feature of the old Brno ZKK 602 DGRs (much loved by everyone who saw it) is the receiver with a flip-up peep sight built in to the rear bridge. These peep sight models are much sought after by many dangerous game hunters who haunt gun shows looking for wayward rifles in need of new homes.  If you can't find a gun show gun then the alternative is flip-up peep sights from some custom gunsmiths, but only at fairly high prices.
While not a flip up design, Talley has a nice peep sight that mounts straight onto their rear scope bases.  On a full tilt custom rifle built, it would be possible to have one of these fitted to a trap door storage place in the stock where it could be kept until needed.  For most folks, putting it in a military surplus compass pouch would get the job done, albeit not as elegantly.
Despite Jack O'Connor's famous comment that hunters, who wanted iron sights on their scoped rifle, were like Model T owners who insisted on buggy whip holders, I don't like a gun that doesn't have iron sights.  I don't want scope-only rifles at all, even if they are varmint rifles.  There are just too many things that can go wrong to damage a rifle scope when you are far away from camp.  I want to be able to detach a disabled scope quickly, and have some good iron sights to fall back on if a shot opportunity presents itself. This can become a serious issue in the thick bush of Africa on the trail of a big wounded animal such as a Cape buffalo.

A return of the flip-up peep sight built into the rear of the receiver would be a heck of a selling feature to offer and would gladden the heart of many true hunters.  Novice safari hunters generally like the idea of folding rear sights and flip-up "moon sights" on the front, but the reality is that a folding back sight on a DGR is not a very good idea.  Most all professional hunters and many clients have made the observation that when you really need it, a folding back sight will always be folded down.  However, a flip-up moon sight on your front is always a good idea for low light situations.  Traditionally, moon sights are made of wart hog ivory, which they say doesn't yellow with age, but for me I'd rather have a tritium model such as  I discussed in Part One, unless the rifle was a very traditional piece and warranted warthog ivory. 
I have extensively used both Warne and Talley quick-detach rings and bases and they have served me well with no failures.  I do not like the Leupold QR design as the levers are too easy to knock loose.  I had a problem with a QR on a banteng hunt on the Cobourg Peninsula in Australia.  That incident broke me from ever wanting to use them again.  The Leupold QRW is a different story, as it is just the Warne design marketed under the Leupold name.  This is a small point, but to me a very important point, when placing your order.
Harold Wolfe once wrote me, "As to the way of hunting in Europe, people require huge, ugly scopes, which do not mate with classic elegant lines of a rifle. This is why many rifle catalogues do not show pictures of scope mounted rifles any more – it just looks too bad."  Undoubtedly this is true, but for the most part Americans are long on performance and short on style.  Most serious hunters I know would not give you a dime for elegance.  Personally, I like designs that combine both elegance and performance.  However, there will always be the die-hard traditionalists, to whom the scope manufacturers should cater to, and personally I regret that you can no longer get all steel tube scopes.  Maybe all steel is a small point, but they are much more rugged than the present aluminum tube models.  I think this is an important point and so much so that I think the extra weight is worth it, even in mountainous terrain.
For many of us, the 4x is all the scope we may ever need, but the variable powered scopes always outsell the fixed scopes.  This is the reality of today's market.  I would say the Leupold 3-9×33 is probably the all time number one selling quality scope in the US.  It is rare to find someone with a fixed 4x or 6x, but when you do it is usually the sign of a sophisticated and knowledgeable hunter.  I am one of the few people I know who uses a 4x on a big game rifle and it is a steel tubed German Zeiss, unfortunately, this has not imparted to me any sophistication or knowledge.  I was just following Jack O'Conner and Elmer Keith's advice.
Then there is the issue of 1-inch vs. 30mm scope rings.  You will have some calls for 30mm rings, but most Americans will prefer the 1-inch just because they are familiar, easier to find, and usually less expensive.  There is the argument that the larger 30mm tube transmits more light.  Obviously this is true but I don't know if the human eye can actually discern the difference.  However, if I was putting together an ultimate DGR and had the budget, I'd probably go with the 30mm rings just for the hell of it.
Another thing to consider is your trigger mechanism.  If it is based on a commercial Mauser or Winchester design then it is already simple, robust and easy to tweak.  If it is an old military Mauser trigger, I would recommend replacing it with a new Timney trigger.  I have an old Mauser 7x57mm deer rifle with a Timney trigger that has worked flawlessly for many years.  Although very robust, the original military triggers leave much to be desired in the accuracy department.
Finally there is the question of what is the best safety.  If your rifle only has iron sights, there is not much point in replacing the original vertical Mauser "flipper" safety as issued on all their military rifles.  However, mounting a scope low on the receiver, American style, necessitates the use of a horizontal lever safety, such as found on the Winchester Model 70, to clear it. 
The only decision you need to make is whether you like the three position factory Winchester safety or a custom two position safety.  Since most folks are already familiar with the three position safety, they don't even think about it, but on a DGR, a two position safety gives you an extra half second of speed in getting your rifle into firing mode.  I probably would not spend the money to replace a factory three position safety, but if I were building a new rifle from scratch and had the option, I would go with a two position safety just for the extra fraction of a second. Not a big deal, but in the wrong circumstances it could become a very big deal nevertheless.
On the Ruger rifle, I would replace their small safety with a bigger after market version.  Older Ruger rifles had sliding thumb safeties on their tangs like double barreled shotguns and double rifles.  This is the best safety design ever made for a DGR, and I have no idea why they ever dropped it.  The decision had to be the cost factor, but there is no doubt the tang safety is the fastest and best design that has ever been developed for a DGR, whether scoped or unscoped.
The DGR is not your deer or elk rifle.  It is a rifle that you are betting your life on and you cannot take shortcuts with it.  Some hunters have tried—and died.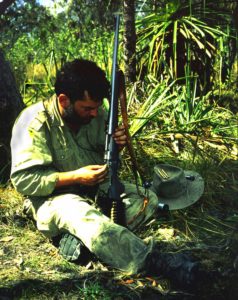 ---
Alan Bunn is a hunting publication veteran with a of Bachelor Arts in Journalism from the University of Georgia. He hunts Africa regularly and is an avid hunter with rifle, pistol, shotgun  and bow.